★ Season 3 Chapter 1 "Yami he no Michiyuki wo, Hitori" is now open!
Event Period: Nov 13 – Nov 25 (12:59 AM CST)
With no time to breathe, Team P is already having a new performance shortly after their last one. Yakou, who was absent during their last performance, asks Rindou to let him be the center. Betting on his own fate, he double casts with Rindou!
★PICKUP GACHA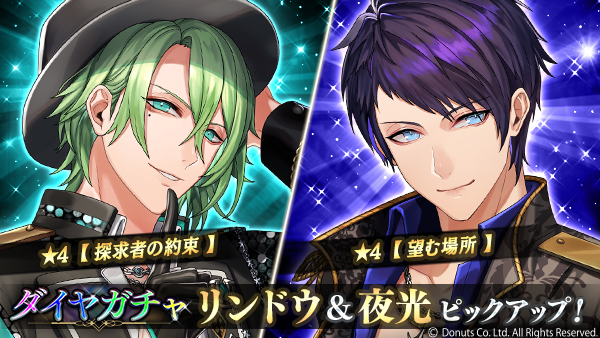 New ★4-cards featuring Rindou & Yakou are are now available in the Diamond Gacha! Both new cards will have a special effect on the event, so don't miss out!
★EVENT SONG: Ginga Tetsudou wo Sagashite
★EVENT PV
Vocal: Maica (Singer: kradness)
Music: Ryudai Abe